Frequently Asked Questions

How can I watch WTJR?

You can watch WTJR with an over the air antenna in our coverage area. You can also watch WTJR on your cable station in or DMA market or coverage area. WTJR also has a live web-stream that simulcasts what we play on the air, broadband Internet connection required. WTJR is also on the Dish Network in our DMA. In addition current local shows are available to watch in the Video on demand section of our website.

I have the dish network can I still watch WTJR ?

Yes. There are several ways to do this. In our local area we are on dish channel 32. Second if you chose over the air (so you can also watch our sub-channels like 16.2), you need an indoor or outdoor antenna and a Digital television or DTV converter box. If the antenna jack is open on your TV hook it to the antenna and scan for digital channels. If it is not open you can loop the antenna through your Dish Satellite receiver, see your owners manual on how to do this. Again scan for Digital channels.

Read more about this here.

I live 100 miles away can I get WTJR?

Normally No. Antenna Reception varies, but if you live 60 miles away you should be able to get us. Reception is based on distance from our broadcast tower and terrain and atmospheric conditions and your reception site. For best reception you need an UHF outdoor antenna the higher the better (within reason as beyond 100′ from your TV you start to get line (cable) loss).

But I have a friend and he hung a coat hanger up at 50 miles and he gets you?

There are exceptions but normally at that distance you need a high quality outdoor antenna.

Ways to watch WTJR or a local program recorded at WTJR

1. Over the air channel 16.1 DTV broadcast – 60 mile range from Quincy IL

2. Dish Network 32 Local Market Area

3. Cable system – If you live in our DMA (domestic market area) we should be on one of your cable channels. See our website DMA map for details

4. DVD- Request a DVD of local program for a suggested donation, at time of recording or contact us here at the station

5. Web stream – Live simulcast web stream of WTJR (check program schedule for airtime) go to www.wtjr.org click on media tab, click on watch online

5. Video on demand - local programs are posted one or two days after primary airtime. They stay in VOD for 1.5-2 months after airtime go to wtjr.org click media tab, click video on demand.

7. YouTube channel - http://www.youtube.com/user/wtjrtv16 or go to YouTube and search for " WTJR " only select programs are posted, not every program is posted there.

rev012115

---

Related:

Powered by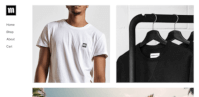 Create your own unique website with customizable templates.